Overview
Evareium completely revolutionizes real estate investment by providing a 'point-and-click' interface for even small-scale investors to buy EVM tokens that will provide beneficial ownership to lucrative, professionally-managed property assets.
Harnessing the convenience and immutability of Blockchain, Evareium's EVM token provides is a digitalized platform founded on investment principles that consistently generate far superior returns on investment of up to 20-30% annualized return over the disappointing yields of typically 5-6% achieved by traditional real estate ownership.
And with the planned introduction of digital token exchange, EVM aims to conveniently and efficiently resolve the issue of inherent illiquidity in a multi-trillion dollar investment model.
Token Details
Symbol : EVM
Type : ERC20
Token Price : 1 EVM = US $1
Accepted Currencies : ETH, BTC
Classification : Utility Token
Decimals : Not Specified
Token Sale Company :
ICO Start Date : TBA
ICO End Date : TBA
Token Distribution : Within 48 hours or less after ICO sale ends
Hard Cap : 140,000,000 EVM
Total Tokens : 150,000,000 EVM
Token Distribution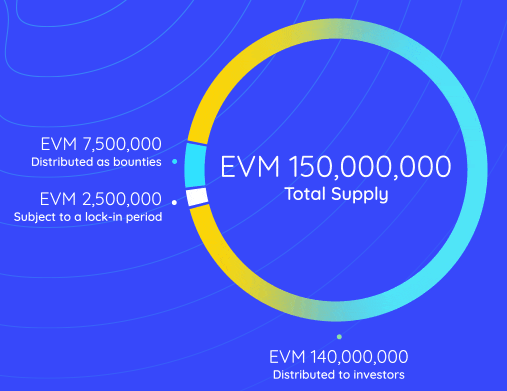 Budget Allocation
Proceeds from the first US$ 2,000,000 equivalent (net of technical partner fees and other administrative charges) raised through this token sale shall be used to establish, cover the costs of, manage and market the Issuer and Fund, and Advisor, General Partner and Manager as the lead parties in this Offering, as the Advisor and/or Manager deems appropriate. The proceeds from the balance of EVM issued (assuming the minimum target is exceeded) shall be used to subscribe to the Fund limited partnership, settle costs and fees and secure direct real estate interests through the Fund.
Team
| | | |
| --- | --- | --- |
| Stefan Hickmott | CEO & Founder | in |
| Mark Wilson | Principal – Investments | in |
| Avik K. Rakhit | Associate Director – Investments | in |
| Andrew Rowlstone | Head of Investor Relations | in |
| Katy Allafranco | Head of Marketing | in |
| David O'Riley | Commercial Advisor | in |
| David Pryce | Commercial Advisor | in |
| Matthew T. Ranson | Corporate Strategist | in |
Advisors
| | | |
| --- | --- | --- |
| Dr. Gery Maes Van de Vorst | Advisor to Board of Directors | in |
| Christian Papathanasiou | Advisor to Board of Directors | in |
| Phillip Nunn | ITO Ambassador | in |
| Paul Moynan | ITO Ambassador | in |
| Desmond Marshall | ITO Advisor | in |
| Jonathan Lane | ITO Advisor | in |
| Ivan Wood | ITO Advisor | in |
| Oliver Fryer | ITO Advisor | in |
| Yogesh Gaikwad | ITO Advisor | in |
| Elias Ahonen | ITO Advisor | in |
| ARC Associates | Finance and Accounting Services | in |
| Peerchemist | Technical Advisor | in |
Roadmap

Contact
EVM Blockchain Limited (Cayman Islands)
FAO: The Company Secretary
Registered office:
Maples Corporate Services
Limited, PO Box 309,
Ugland House,
Grand Cayman,
KY1-1104, Cayman Islands