Overview
BunnyToken is a standard payment solution which will unify the online adult industry based on the blockchain technology.
BunnyToken is a project inspired by the adult industry which aims to offer all businesses related to the industry a safe and reliable payment solution, to guarantee safety and minimise rejections based on the nature of the business.
Token Details
Symbol : BUNNY
Type : ERC20
Token Price : 1 BUNNY = 0.000153 ETH
Accepted Currencies : ETH, BTC
Classification : Utility Token
Decimals : Not Specified
Token Sale Company : Bunny Software LTD
ICO Start Date : Apr 25, 2018
ICO End Date : May 25, 2018
Token Distribution : Within 48 hours or less after ICO sale ends
Total Tokens : 1,000,000,000 BUNNY
Token Distribution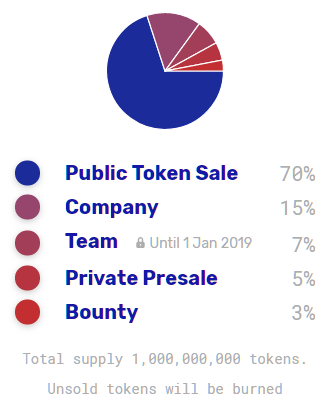 Budget Allocation
Software development 30%
These funds will be allocated for the costs of developing the BunnyToken platform and all the technical work which will go into the process. This includes developing the CRM, wallet, payment page and API.
Business development 25%
These funds will go into growing and improving our relationship with potential partners and
industry leaders through expos, promotional events and industry conferences. The relationships
we build will increase our client base and help our business prosper.
Marketing 35%
These funds will be allocated for the costs of our marketing strategy, including but not limited to branding and brand awareness, public relations, ad campaigns, social media campaigns, newsletters, and any means deemed necessary to expand the brand and reach our goals.
Operational costs 10%
These funds will be used to cover the costs of our day-to-day operations which will keep the BunnyToken development and brand alive. This includes but is not limited to the recruitment,
specialists who will join the team, office expenses and more.
Team
| | |
| --- | --- |
| Alexander Maslov | CO-FOUNDER CEO |
| Vasilisa Yakubo | CO-FOUNDER COO |
| Andrei Kazarin | CO-FOUNDER CTO |
| Wiebe Van Veen | BLOCKCHAIN DEVELOPER |
| Ruben Klassen | BACKEND DEVELOPER |
| Ove Skovgaard | DEVOPS |
| Spas Danilov | SENIOR SOFTWARE DEVELOPER |
| Nikita Polyakov | MOBILE DEVELOPER |
| Filip Bager | UX/UI DESIGNER |
| Dori Rubinshteyn | BUSINESS DEVELOPMENT |
| Anika Dresdner | ACCOUNT MANAGER |
| Aurimas Adomaitis | HEAD OF USER ACQUISITION |
| Garry Stanford | EMAIL MARKETING MANAGER |
| Kristine Lang | PR MANAGER |
| Jaylin Colbert | SENIOR COMMUNITY MANAGER |
| Kalla Baars | SENIOR COMMUNITY MANAGER |
| Nora Belcher | COMMUNITY MANAGER |
| Monika Sawyer | COMMUNITY MANAGER |
| Maghan Choi | COMMUNITY MANAGER |
| Tamera Brooks | COMMUNITY MANAGER |
Roadmap

Contact
Bunny Software LTD. Suite C, Orion Mall,
Palm Street, Victoria Seychelles